PRESS & PREPRESS & BINDERY EQUIPMENT
Heidelberg-XL-106-6-LX3 Press

Our XL 106-6+LX3 is the most highly Automated Printing press manufactured by the world leading press manufacturer, Heidelberg. 
Below are just a few of the features on our new press which will allow us to set new standards and meet the highest quality demands from our customers for manufacturing your production ensuring the highest quality and repeatability.
Capable at producing at 18,000 sheets per hour, the press features an elevation kit for taller stacks, is able to produce both conventional print with water-based coating and UV-printed jobs with high gloss UV coatings, thanks to a complete IST UV system.
Push to Stop technology features include the Prinect PressCenter 2 operating console with Wallscreen XL interface. Data is transferred into live work as a result of the fully automated AutoPlate Pro plate changing system, the Inpress Control spectral colour measurement and automatic register system, automated wash-ups and the new Quality Assist program for autonomous progression from makeready to good sheet production, Heidelberg explains.
KBA Rapida 105-6 Color UV Press with Coater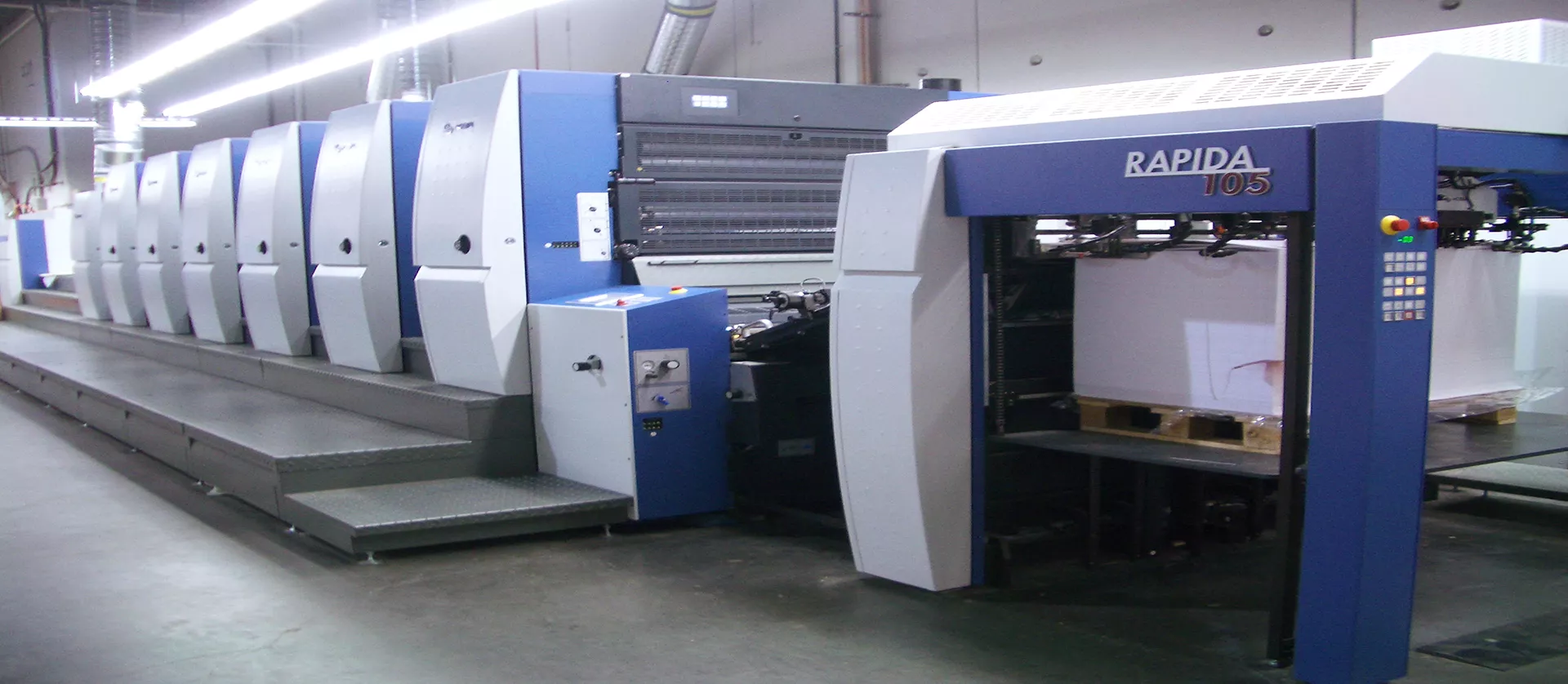 Our 41-inch six-color sheetfed Rapida 105 press provides us with the ability to print the thickest board in the industry, something no other press manufacturer can offer. Good for high end packaging products and plastic, print on thick substrates up to 48 pt. We are the only printer in Western Canada with the ability to print the thickest board jobs.
Heidelberg XL 75-6+L-F with X3 Delivery 


Speedmaster XL 75-6+L with the ability to print in both conventional and UV formats.  Great for short runs, 6-page brochures, presentation folders etc.
Heidelberg Speedmaster XL 75 is the most efficient press when it comes to make-ready time and changing from conventional to UV.  As we need flexibility to change sheet size and thickness on almost every job. The Intellistart Operating System of the XL 75 makes that easy.  Complete with Wallscreen and AxisControl, all job requirements are at the operators fingertips.  The IST - UV System features interdeck and end of press curing, allowing for print on a wide variety of substrates, including plastics and foils.
Our First Press and Still Working on the press floor...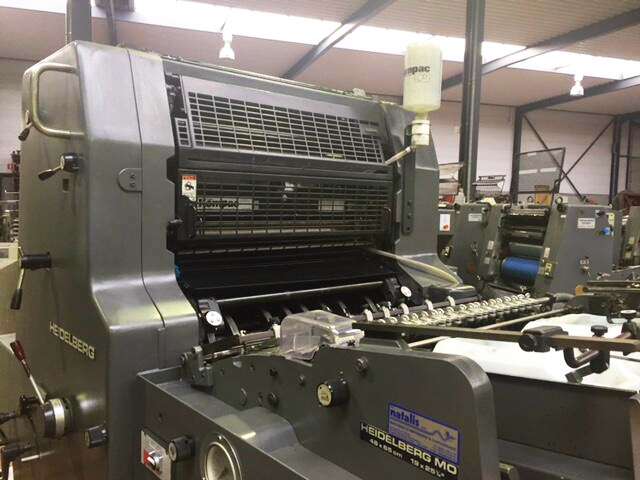 Heidelberg MO - Single Color
Features:
Single Color Press
Sheet Size:4.5" x 11" to 19" x 25"
Print Stock: up to 24 pt.
PREPRESS DEPARTMENT
Plates & Proofing
We Have 2 Heilderberg SuperSetter
State of the Art 'Laser Technology'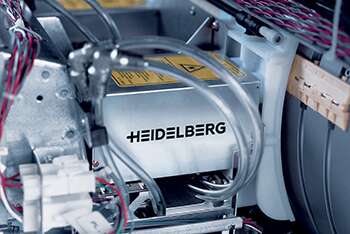 Heilderberg SuperSetter 105
Heilderberg SuperSetter 106
Suprasetter provide excellent imaging quality.  The Suprasetter offers a consistently high depth of focus to compensate for unevenness in the plates.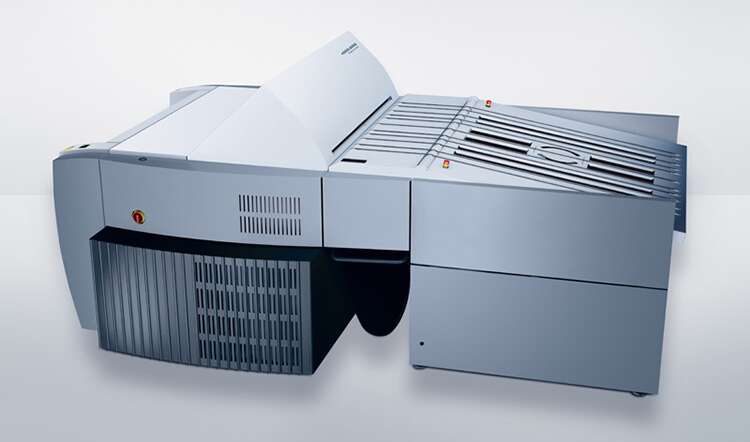 We Have 2 inkjet
Epson P9000 44" proofers
Output accurate and consistent proofs for every print job.
Capable of printing large format jobs of up to 44" in width.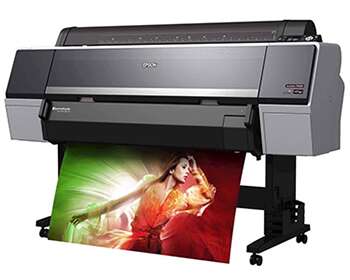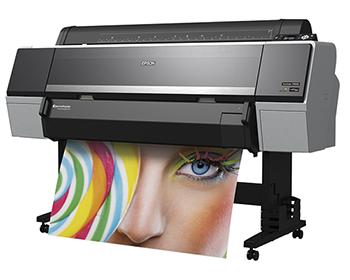 BINDERY DEPARTMENT
Collating, Binding, Folding. Cutting, Scoring, Die Cutting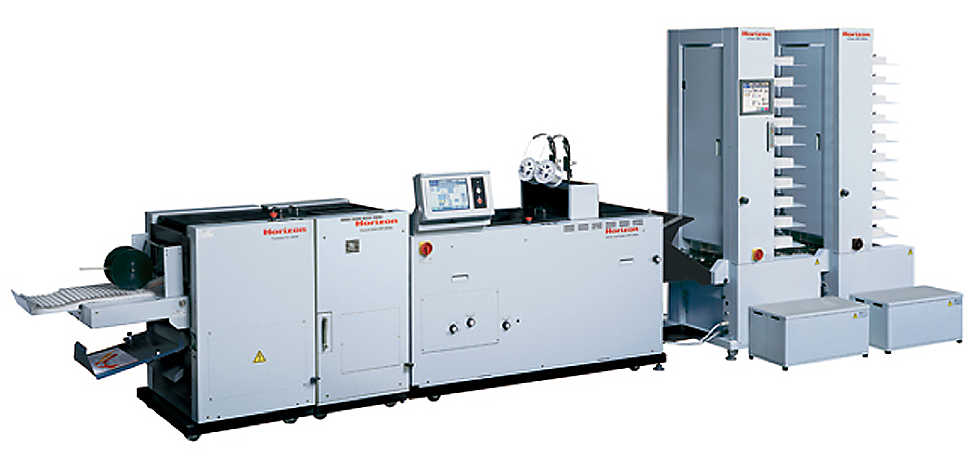 Horizon SPF-200L 20 Bins Booklet Maker and VAC1000 Collator
Features:
High productivity up to 4,000 booklets per hour,  A4 Finish Portrait and 3,500 booklets per hour,  A4 Finish Landscape.
Fully-automated set-up – including gear-driven fold roller gap adjustment - through user-friendly 10.4" color touch-screen.
Easy-to-use touch-screen display allows anyone in the production area to operate the SPF/FC-200L and provides centralized control.
Memorize and store up to 200 jobs for quick and easy recall from the touch-screen.
Designed for quick and easy set-ups and changeovers offering square folds, accurate stitch alignment, and precise cross-over registration.
The VAC-1000's unique suction rotor feeding system can feed a wide variety of paper stocks…even signatures.
LG-1000 landscape guide enables the operator to load the sheet length up to 24" for A4 landscape booklet production.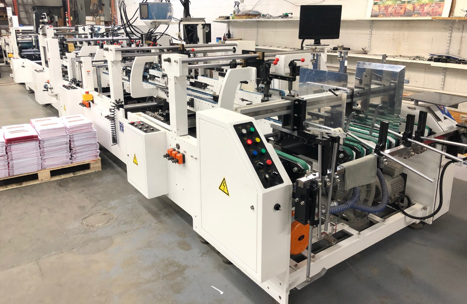 GM-1100 Paktek Folder Gluer & Leary Array LS4 Glue Feed
Features:
High speed
Paper size: from 6.3"x31.5" to 43" x 31.5"
Capable for Straight Line or Auto Bottom Glue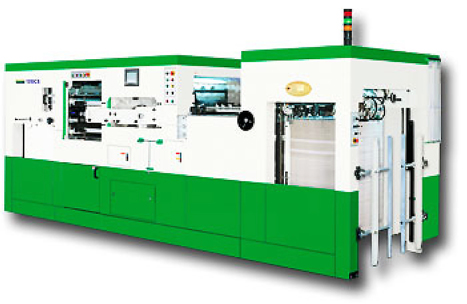 Baoder Die Cutting Machine
Features:
max. paper size 1050mm × 750mm
min. paper size 400mm × 370mm
max. die cutting size 1040mm × 730
min./max. thickness paper 80g/㎡ ~ 1500g/㎡.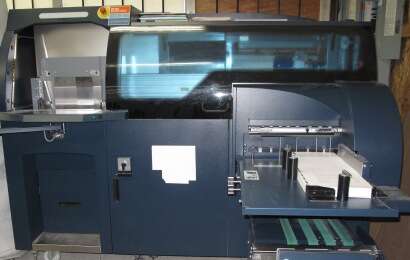 CP Bourg Perfect Binder
Features:
Size from 4" to 15"
Thickness from 0.05" to 2.25"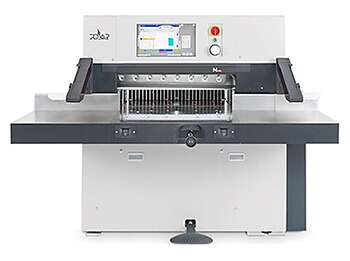 Polar 78X & Polar 115 Cutters
Features:
Computerize and precise cut for all finished products.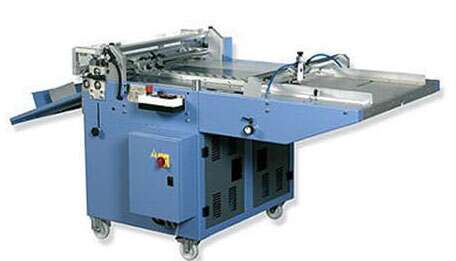 ROL 70 Top Scoring Machine

Features:
Known for accurate scoring & perforation.